Angel Tirado isn't a woodworker by trade, but he knows one and he's building an ark for Him.
The past four years Angel has tirelessly served the homeless population from Ft. Lauderdale to Port St Lucie, with his primary focus being from Lake Worth to Riviera Beach, along Dixie Highway and west to Military trail and all points in between.
It started one morning before dawn, when Angel, originally from the Bronx, and a former hard core drug dealer, heard the Lord tell him to feed his sheep. With only two dozen eggs in his refrigerator located inside the one bedroom trailer he lived in at the time with his two boys, Angel(Jr) and Justin, who were 11 and 9, he was uncertain. But he felt he had to make a move, and that Saturday morning he and his boys found seven hungry people at a park in Lake Worth, and fed them.
For I was hungry, and you gave me food to eat. I was thirsty, and you gave me drink. I was a stranger, and you took me in. Matthew 25:35
Today, We Believe Ministries, located at 2304 N. Dixie Hwy in West Palm Beach, lovingly known as The Ark, has turned feeding seven people into thousands, with about 60 outreaches a month, serving hot food and offering practical items.
Multiplying is what God has quite a knack for, as Angel has come to know; not just from his years of Bible study in the past five and half years since he's been born again, but from personal experience.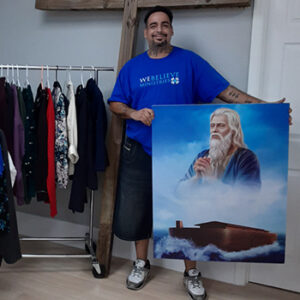 Angel used to be homeless himself. He had lost everything: his home, his children, and jobs were all just a memory when he took a Palm Tran ride to a 'place' a former coworker told him about. That evening, as he descended the steps of the bus, he ascended into the salvation of his soul at a service held at Christ Fellowship in Palm Beach Gardens.
As the Founder and Director of We Believe ministries, stories are quick to be heard from Angel, of God's intervention on the streets. Imminent downpours of rain being held back until the very last person was served. Commercial trucks being mysteriously donated at the last minute to ship 2000 lbs. of food offered him from Orlando. People showing up just when needed. And when forced to move the operation, new doors opening just in time, with the funds supplied. All of this has served to bolster Angel's faith, and surely the faith of every witness to this mission.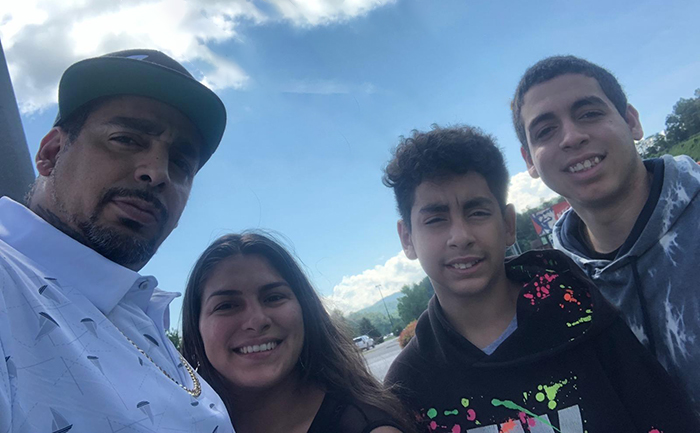 Mainstay volunteers, June, Carlos and Janet help run the pop-up side of the ministry and Josh and April, along with daughter Alicia help with the homeless feeding side. Angel's lovely new wife Eva, who cares for their newborn son Angelito, (7 months), spends much time 7 days a week with Angel creating the homemade breakfast menu of croissants, bacon and eggs and serving alongside other volunteers at the Lewis Center in West Palm Beach. Eva's mother and grandmother, of course, his two boys, are an active part of the ministry, as well.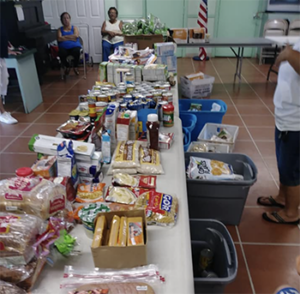 A team of volunteers serve hot meals in shelters, at pavilions, in senior housing groups, 'car patrol' or where the volunteers hit the streets, supplied with hygiene kits as they let the Holy Spirit lead them to whichever corner or bench or alley they should go. Angel wants no stone unturned.
The ministry also offers haircuts, weekly Bible studies and worship services, and prayer. He said God told him to, "bring My children home", and he knows that "He (God) turns graves into gardens".
Angel's relationship with his boys today has transformed, and when asked about them, tears start to stream as his head bows slowly. The reality of His grace looks deep on Angel, and he sits tall when remarking that he visited his daughter Angela, 23, in NY recently, to help give her some father support.
We Believe offers whole person support. Their motto, "It's more than a meal. It's a Message".  Like many organizations, We Believe has lost 80 percent of funding since Covid. They continue to operate in His Grace, and Angel works two regular jobs to keep his own family fed. His vision is fuller pantries, a weekly church service, a bigger location, and a GED program.
If God is leading you to help build The Ark in any number of ways, please check out their pics and vital info at: Webelieveministry.com and www.facebook.com/pg/webelieveministries.net. (561) 702-4376. You're soon to become one of the family!