The 100 days of massacres in Rwanda (1994), have infamously marked its reputation for the treacherous, horrific and senseless killings and rapes of over a million people. Streets lined with bodies and bones, and the smell of death in every corner of the burnt and broken towns and villages haunted the locals for years. But Rwanda, gratefully, with much work and healing, is a different place today. Rwandans, who are hard working and self reliant, have rebuilt the country over the past two and a half decades.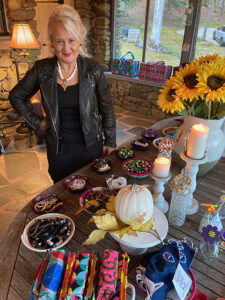 A world away, Carolina Fernandez, originally from Allentown, Pa. where she raised her four children, and then enjoyed a lucrative career off Wall Street as a Financial Advisor. She shared a wonderful life with her husband, Ernie (CIO at a leading academic institution and former senior executive for three decades at a Fortune 50 technology firm.)
Eventually, Carolina switched gears from high finance to indulge in her creativity and share her artistic gifts with the world. Painting expressions in fashion and interior design of luxury homes have all been tied to philanthropic flair that has embodied her spirit of generosity.
Carolina was raised by her loving parents until age 12, when her father was taken tragically in a plane crash. His passing was a "defining moment" in her life. She grew up in a religious household and with more than one Baptist minister in her extended family. Carolina describes her mother as a model of generosity, and Carolina has stayed deeply sensitive to the emotions and hardships that her mother was experiencing, as well as her own, from the loss of her beloved father so very young.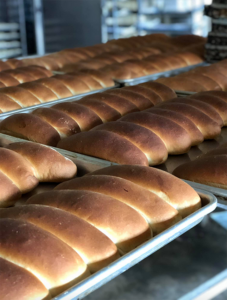 While Carolina was always generous, the circles she moved in during her career, did not put her in any direct connections with those living in poverty. However, God, in His sovereignty, had planned all along for Carolina to take a trip, in 2012, to Rwanda, Africa.
She graciously funded a trip for 12 Babson College student entrepreneurs. She, herself, accepted an invitation to visit to see what the young entrepreneurs were doing. It was there she met Sr. Augusta of the Benebikira Sisters of the Jesuit order and stayed with the Jesuits at their local convent three hours outside the capital, Kigali. This experience was the second most impactful one in her life.
Carolina wasn't prepared for the hardship and extreme poverty that still permeated deep in rural Rwanda, almost 20 years post-genocide. Yet, Carolina was touched by the joy embodied in the people she met. She was particularly taken by the joy she found in many of the widows.
Carolina was changed forever as God was infusing a new perspective in her soul, a world away from her daily comforts. He was piercing her heart with a love and compassion she had not yet experienced in this way. Upon returning from her trip, she passionately shared with her husband her deep desire to fund the building of a much needed bakery that would feed the villagers and provide jobs and self esteem for the many single mothers. Ernie, moved by her passion, was fully on board.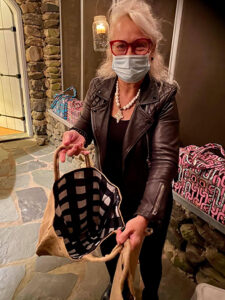 By 2014, the bakery was operational, though not without bumps in the road. She and Ernie flew to Rwanda to attend the ribbon cutting and Carolina noticed she didn't smell any bread baking. It was then she learned there was not enough electricity to fund the commercial equipment. Additional work was needed to get it up and running. Through all this, God was broadening Carolina's heart. Problems were resolved and the bakery now produces over a million and a half, highly fortified pieces of bread about the size of a sub roll, feeding 39,000 weekly, with about 5,000 being children. Carolina and Ernie have funded a van for deliveries and two outpost locations, and, as their hearts grew and they built up reserves, they were able to fund a second, larger bakery, in Kigali in 2019.
Additionally, upon a return trip a year prior in 2018, the visionary and textile artist was drawn to the African fabrics and colors that "spoke" to her. Subsequently she created a social venture, flourFLOWER, to produce bags made of African fabrics, as well as her signature market tote, fabricated from recycled flour sacks used at the bakeries. ($100.00, each sack bought feeds 700 Rwandans). She also created a line of rolled, beaded stack bracelets, beautiful earrings and cosmetic bags all in brilliant colors, and hand rolled goat milk soaps (from $30.00), all made by the Rwandan craftswomen to further their financial support for daily life.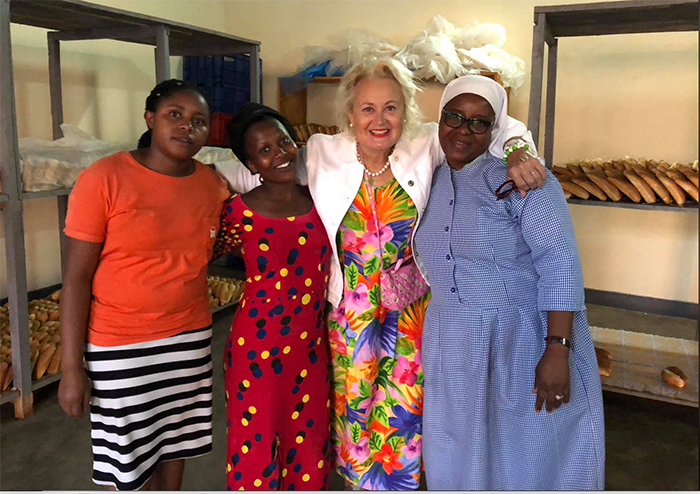 In 2020, she was offered a Fellowship from GSCEN's Social Venture Research Institute. Carolina excitedly accepted the opportunity and was able to parlay the principles of the institute by teaching a pop-up class in social entrepreneurship at the university level. And her hard work had fostered a global effect in transforming lives. The God ordained venture launched online as shopfourflower.com on April 1, 2020.
Locally, Carolina offers a viewing of flourFLOWER products with hosted events at churches, themed conferences and private homes. She thoughtfully explains that her clientele consists of women who have seen a lot, lived a lot, and have experienced both great joy and great sorrow.  She iterates that her particular attraction to a place she never intended to visit, was that in spite of such great tragedy, the Rwandans are such a joy-filled people.
God truly does move in breathtaking ways in our lives. Today, Carolina expresses emphatically that if she wasn't living in Connecticut and Palm Beach, she would absolutely want to live alongside the women of Rwanda, for a part of her heart is truly there.
To make an impact please visit: shopflourflower.com.
To email Carolina: carolina@shopflourFLOWER.com
To assist the Benebikira Sisters of Rwanda see: ​ http://benebikira.net
Tax deductible donations may be sent to Benebikira Fund, Paraclete, 207 'E' Street
South Boston, MA 02127 Email: paraclete@paraclete.org